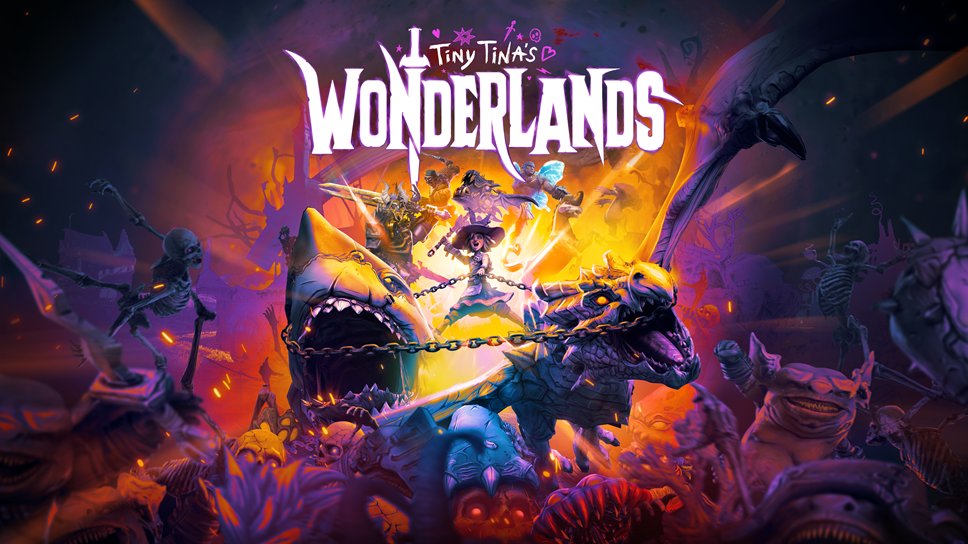 Tiny Tina's Wonderlands® Releasing on Steam on June 24 in Australia & New Zealand
Players can experience the chaos of the Wonderlands, debuting alongside all post-launch content like the brand new DLC: Molten Mirrors
Today, 2K and Gearbox Software announced that Tiny Tina's Wonderlands® is releasing at 3:00 a.m. AEST on June 24, 2022, on Steam, where it has consistently been one of the most wishlisted titles. Since launching on other platforms earlier this year, critics and fans around the world have been enamoured with the delightful chaos from Tiny Tina's unpredictable mind. With crossplay between PlayStation®5 (PS5™), PlayStation®4 (PS4™), Xbox One, Xbox Series X|S, the Epic Games Store and now Steam, even more players can join in on the adventure together.
"Gearbox is all about one-of-a-kind entertainment experiences – with Wonderlands that meant creating a new take on a familiar genre," said Randy Pitchford, founder of the Gearbox Entertainment Company. "Steam players are in for one heck of an adventure as they explore Tina's off-the-walls imagination, and crossplay gives our fans even more ways to battle the Dragon Lord, no matter what platform they game on."
For a limited time, Steam players will be able to pick up the game for a special Steam launch price*, and get the Golden Hero Armor Pack until July 7, 2022.**
On Steam, players will have the choice between the Standard Edition or the Chaotic Great Edition. The latter comes with the Dragon Lord Pack of bonus content, as well as the Season Pass, which includes an extra playable class being released in a future update, the Butt Stallion cosmetic pack, and all four Mirrors of Mystery DLCs.
Mirrors of Mystery DLCs provide new ways to hunt for loot and cosmetics on your way to defeating the Dragon Lord, with challenging new dungeons such as Coiled Captors, Glutton's Gamble, and the brand new Molten Mirrors, releasing on June 24 on all platforms, including Steam.
In Molten Mirrors, players will battle Fyodor the Soul Warden, who lords over his horde of lost souls deep within his mountain stronghold. In order to break their chains, players need to defeat Fyodor's murderous mechanized defences, including terror-powered turrets, blazing furnaces, and bone-crushing hammers, all while looting for new weapons, gear, and cosmetic items. Additional details about Molten Mirrors are available on the game's official website.
For owners of the Chaotic Great Edition or Season Pass, the fourth Mirror of Mystery DLC releasing later this year will also feature a brand-new playable class called the Blightcaller.**** This shamanic elementalist channels spirits and summons storms to wear down foes with poison and elemental damage. As the seventh class to be introduced to Tiny Tina's Wonderlands, the Blightcaller will bring even more player customization by further expanding the deep multiclass system in the game.
For more information about the game's Steam release, check out the game's official website. Note, players' save data can be transferred between the Steam and Epic PC platforms but will need to be moved manually. By doing so, players run the risk of potentially losing save files, so we strongly recommend making a backup copy before attempting any manual transfers. Detailed instructions will be available on support.2k.com in time for the Steam release.
Tiny Tina's Wonderlands previously launched on March 25, 2022, across Xbox Series X|S, Xbox One, PS5, PS4, and the Epic Games Store.
Developed by Gearbox Software, Tiny Tina's Wonderlands is rated "M" by the OFLC. For more information on Tiny Tina's Wonderlands, please visit playwonderlands.com and follow @PlayWonderlands on Twitter, Instagram, and Facebook.
For assets and additional information on the entire 2K portfolio of games, please visit newsroom.2k.com.
Online Account (13+) required to access online features. See www.take2games.com/legal and www.take2games.com/privacy for additional details.
*Introductory Steam limited-time offer ends 3:00 AM AEST on 8/7/22 (and equivalent time zones where offer is available). Pricing and availability may vary by region. See steampowered.com for details. Terms apply. No rainchecks.
** Golden Hero Armor Pack offer expires at 3:00am AEST on 8/7/20. One per Steam account. Content will be automatically entitled in game. Terms apply.
***Based on 2K's suggested retail price. Actual retail price may vary. See local store for info.
****The Blightcaller class is part of Tiny Tina's Wonderlands: Shattering Spectreglass, which will be available to be purchased individually or as part of the Tiny Tina's Wonderlands Season Pass (a copy of Tiny Tina's Wonderlands is also required to play).
# # #